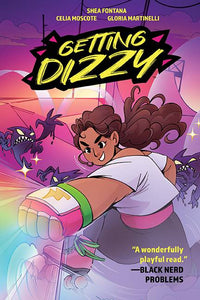 GETTING DIZZY TP
Dizzy wants to be the best! But with everything she's tried, including roller skating, this teen can only achieve one thing-disaster.

Just when she's about to give up, interdimensional creatures called the Negatrixes attack, forcing her to take up the mantle of 'Burb Defender! But if she wants to save the world, she's going to have to assemble the coolest skating crew the 'Burbs have ever seen.

From New York Times bestselling author Shea Fontana (DC Super Hero Girls, Wonder Woman Rebirth) and acclaimed artist Celia Moscote (Juliet Takes Breath) comes an aspirational story, perfect for fans of Save Yourself! and Rollergirl, that reveals a true hero is nothing without her friends.

Collects the complete Getting Dizzy #1-4.
---
We Also Recommend