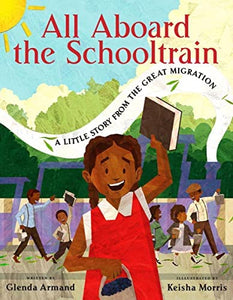 ALL ABOARD THE SCHOOLTRAIN
"Schooltrain! Schooltrain! Don't be late! The school bell rings at half past eight!"
This tender family story, inspired by the author's own, illuminates a dynamic chapter in American history known as the Great Migration ― and the many trains people rode toward freedom.
***3 STARRED REVIEWS***
* "A vivid evocation of place and era rolling solidly on a bed of timeless values." ― Kirkus Reviews, starred review
* "A child-friendly picture book introducing the Great Migration." ― Booklist, starred review
* "Lends the meandering feel of family stories to this portrait of a historical moment." ― Publishers Weekly, starred review
Thelma loves to watch the Sunset Limited chug through her little town of Vacherie, Louisiana. And she dreams of one day riding a real train! For now, she has her beloved schooltrain. Every morning, she and her friends walk to school, single file, chanting all the way:
"Schooltrain! Schooltrain! Don't be late! The school bell rings at half past eight!"
Then it's on to great adventures with her teacher's books ― and her own imagination!
But lately, someone named Jim Crow has been making trouble for folks in Vacherie. Aunt Bea and Uncle Ed have already moved away. When Thelma's best friend also has to leave, Thelma wonders, who is Jim Crow and why does he have to be so mean? Will he make trouble for Pop, too?
---
We Also Recommend