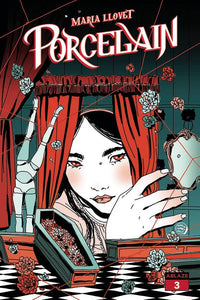 MARIA LLOVETS PORCELAIN #3 CVR A LLOVET (MR)
First ABLAZE brought you the surreal, bewitching tale of Maria Llovet's Eros/Psyche...now comes Porcelain.

With her new ally, Axel, by her side, Beryl ventures deeper into the nightmarish Dollhouse. As they travel along, they are faced with sad realities and horrors that neither are fully prepared to encounter. Things may seem hopeless and the descend further and further, but at least they have each other.
---
We Also Recommend