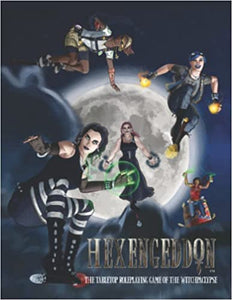 HEXENGEDDON TABLETOP WITCHPACLYPSE RPG
HELL HATH NO FURY!

Using the weapons of ignorance, greed, and hate The righteous and hateful have turned humans against each other, polluted the world, and threatened it with nearly daily destruction.

But, When a young witch is killed in modern-day middle America, the witches of the world declare war against the governments of the earth and the hidden organizations that control them.

Hexengeddon: is a role-playing game about a world of magic, conspiracies, and a millennia-old war between the patriarchy and powerful female freedom fighters.
Hexengeddon is easy to play MA-17 rated Table Top RPG that mixes modern politics and issues with fantasy.
Players, with the help of their GM, create and play through adventures taking place in a dystopia straight out of the headlines. As a witch or human, they must fight a war started by the sinister minions of the fascist and hateful, Serpent.
The Rulebook includes:
Character Generation

Rules

World Information

Stated Allies and Enemies

An Adventure for new Players

Character Sheets.
BASED ON THE MOVIE HEXENGEDDON