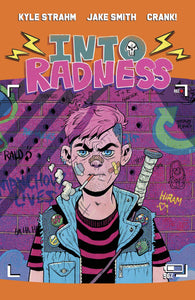 INTO RADNESS TP
Dylan, Trixie, and their friends want to be Internet famous, but their show, Into Radness, has twelve subscribers, and it's terrible. Blowing up old VHS tapes and setting slime on fire just doesn't bring in the views.

But freaky things are starting to happen in the city of Back Alley. When the teens are filmed defending themselves from an oozing zonked creature, they become overnight celebrities. Oh, and that creature? There are a lot more of those roaming the streets!

Friendships are strained and battle plans drawn as six teens descend into radness!!
---
We Also Recommend