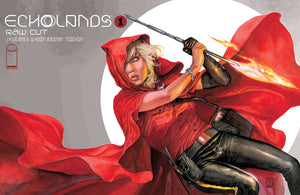 ECHOLANDS RAW CUT ED #1 CVR A WILLIAMS III (RES) (MR)
Each issue of ECHOLANDS will offer a Raw Cut Edition, featuring the art from J. H. WILLIAMS III as it looked leaving his work studio. And we've kept the lettering intact in a translucent form.
In a bizarre future world that has forgotten its history, a reckless thief, Hope Redhood, holds the key to excavating its dark, strange past-if only she and her crew can escape a tyrannical wizard and his unstoppable daughter. But fate will send them all on a path leading to a war between worlds.
ECHOLANDS is a landscape-format mythic-fiction epic where anything is possible-a fast-paced genre mashup adventure that combines everything from horror movie vampires to classic mobsters and cyborg elves to Roman demigods and retro rocket ships. It's going to be a helluva ride!
---
We Also Recommend