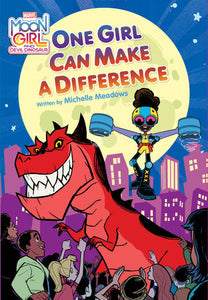 MOON GIRL AND DEVIL DINOSAUR ONE GIRL CAN MAKE A DIFFERENCE
Perfect for fans of the

 

Moon Girl and Devil Dinosaur

 

series, this novelization helps readers understand how Moon Girl manages her life: junior high school student by day; crime-fighting Super Hero by night--not to mention the guardian of a 10-ton red dinosaur who lives in her secret lab.
This paperback novelization follows the 13-year-old Marvel Super Hero around her Lower East Side of Manhattan neighborhood, where her family owns and runs a roller-skating rink. As Moon Girl explores the cause of so many unexplained neighborhood power blackouts lately, readers will  learn how Moon Girl came to be, meet her sidekick, a giant red T-Rex, and follow them on their first adventure fighting against the evil villain who is bringing darkness to her beloved community.
---
We Also Recommend