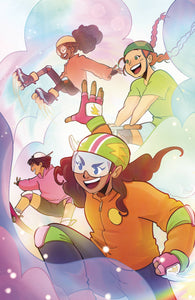 GETTING DIZZY #3 (OF 4) CVR A MOSCOTE
* Dizzy and the rest of The Rollers have had a quiet couple of days, tracking any possible Negatrix activity and getting Dizzy ready for the big skating competition.

* But as Dizzy's confidence in her abilities climbs, arrogance becomes a mask for self-doubt, to the detriment of her friends.  

* Even as Dizzy starts to doubt herself, and pushes her pals away, she realizes that Mayor Fox is infected by the Negatrixes and is spreading their negativity all over town!

* But before she can get her thoughts in order, Dizzy discovers a dark, unexpected secret behind her 'Burb Defender identity at the worst possible time... when her powers run out of charge...
---
We Also Recommend