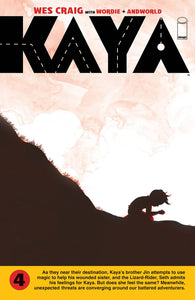 KAYA #4 CVR A CRAIG
As they near their destination, Kaya's brother Jin attempts to use magic to help his wounded sister and the Lizard-Rider Seth admits his feelings for Kaya. But does she feel the same?

Meanwhile, unexpected threats are converging around our battered adventurers.

Featuring a Moebius-inspired variant cover by WES CRAIG!
---
We Also Recommend