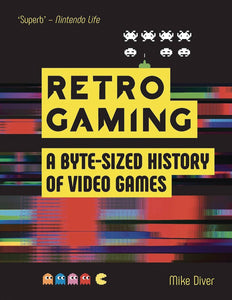 RETRO GAMING BYTE SIZED HISTORY OF VIDEO GAMES
(W) Mike Diver
Published in paperback to tie-in with 50 years of console gaming, 
Retro
Gaming
 is packed with all the characters, games, consoles and franchises you used to love-and probably still do. This is a compact, conversational compendium of all-time highs-alongside just a handful of humorous (in hindsight) lows-from decades of arcade, computer, console and handheld hits. From Atari's early arcade classics and home games consoles of the 1970s, through to classics that keep on giving, such as 
Halo
 and 
Tomb
Raider
, this book summarizes the significant releases, research and revolutions that have made video games a 100 billion (and rising) industry.
---
We Also Recommend