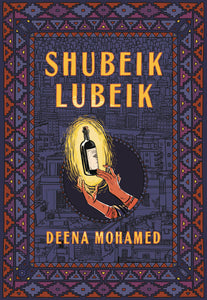 SHUBEIK LUBEIK GN
(W) Deena Mohamed (A) Deena Mohamed
A brilliantly original debut graphic novel that imagines a fantastical Cairo where wishes really do come true. 
Shubeik Lubeik
- a fairy tale rhyme that means 
"your wish is my command"
 in Arabic - is the story of three people who are navigating a world where wishes are literally for sale. Three wishes that are sold at an unassuming kiosk in Cairo link Aziza, Nour, and Shokry, changing their perspectives as well as their lives. Aziza learned early that life can be hard, but when she loses her husband and manages to procure a wish, she finds herself fighting bureaucracy and inequality for the right to have - and make - that wish. Nour is a privileged college student who secretly struggles with depression and must decide whether or not to use their wish to try to "fix" this depression, and then figure out how to do it. And, finally, Shokry must grapple with his religious convictions as he decides how to help a friend who doesn't want to use their wish. Deena Mohamed brings to life a cast of characters whose struggles and triumphs are heartbreaking, inspiring, and deeply resonant.
---
We Also Recommend