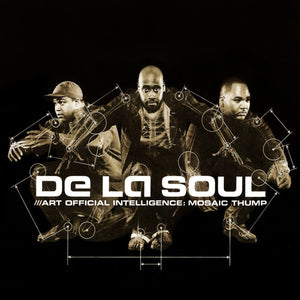 DE LA SOUL / ART OFFICIAL INTELLIGENCE MOSAIC THUMP LP
Art Official Intelligence: Mosaic Thump is the fifth studio album
by de la Soul, released on August 8, 2000. Among the guests
on the album are, Redman, Tash and J-Ro of Tha Liks, Xzibit,
Busta Rhymes, Mike D and Ad Rock of the Beastie Boys, Busy
Bee, Freddie Foxxx and Chaka Khan. Mosaic Thump returned
De La Soul to chart territory again thanks to the hit singles
"Oooh.", and "All Good?". "Oooh" was nominated for a Source
Award and the album was nominated for a Grammy for Best
Rap Performance By A Duo or Group.
* Black LP x 2, 140 gram vinyl (Remastered), printed inner sleeves
- Disc 1 -

1

 Side A - Spitkicker. Com/Say R

2

 U Can Do (Life)

3

 My Writes

4

 Oooh

5

 Thru Ya City

6

 Side B - I. C. Y'all

7

 View

8

 Interluden

9

 Set the Mood

10

 All Good?
- Disc 2 -

1

 Side C - Declaration

2

 Squat!

3

 Words from the Chief Rocker

4

 With Me

5

 Side D - Copa (Cabanga)

6

 Foolin'

7

 The Art of Getting Jumped

8

 U Don't Wanna B.D.S
---
We Also Recommend